((

STILL UNDER CONSTRUCTION

))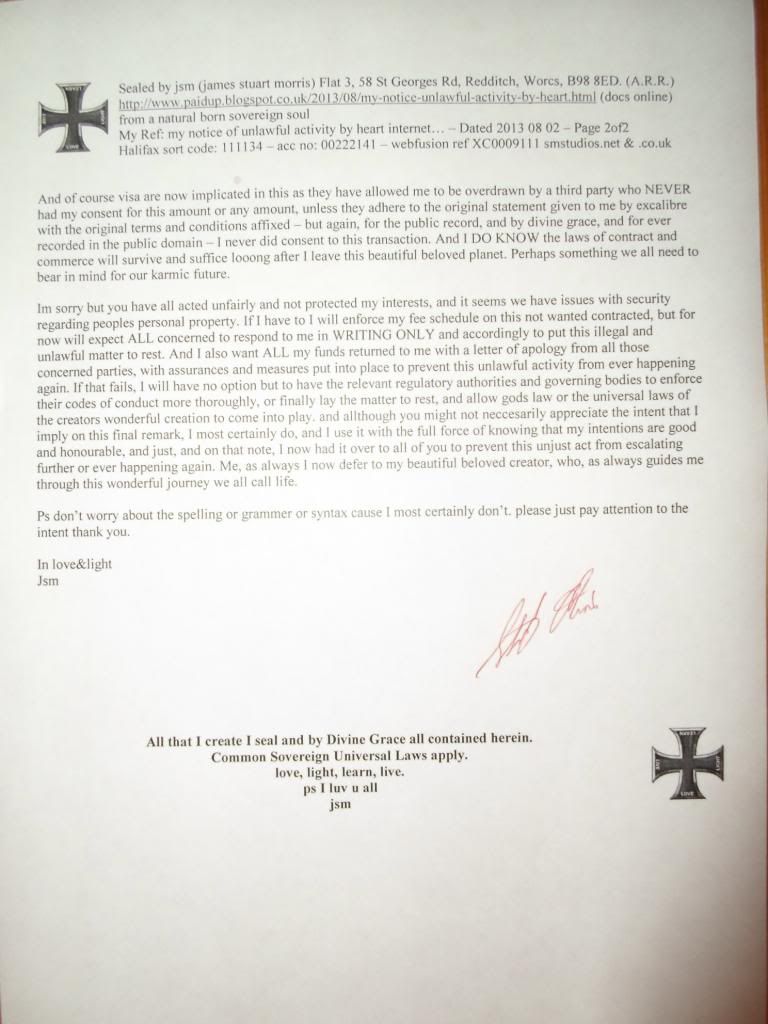 -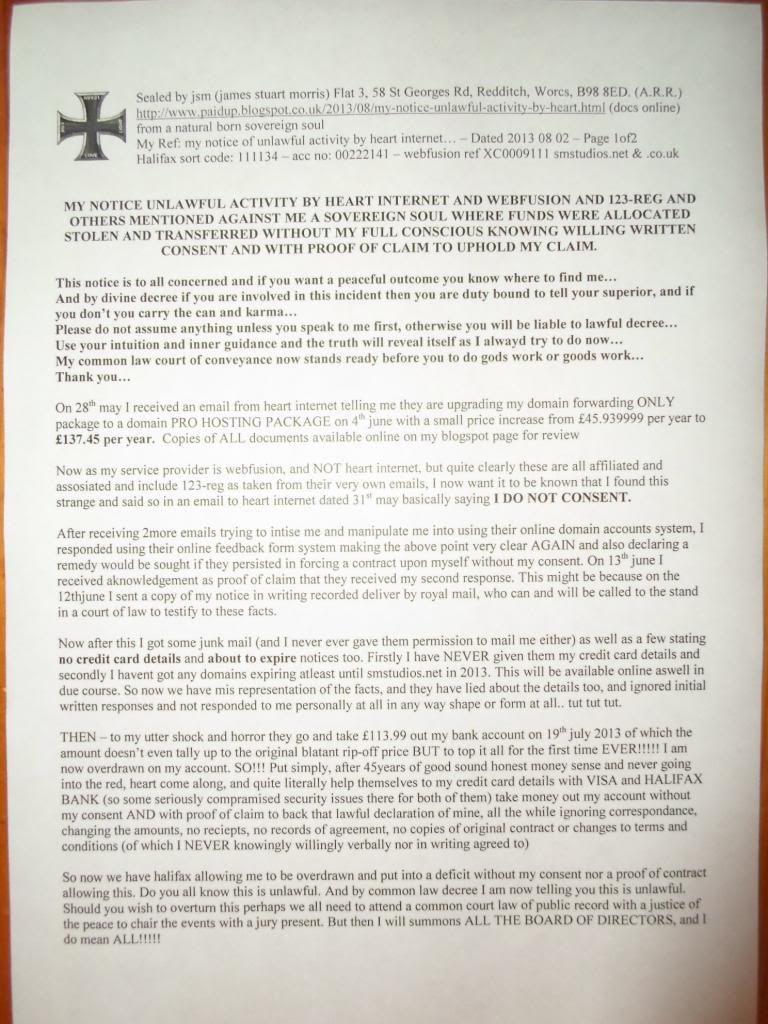 (read below)
= = = = = = = = =
= = = = =
Sealed by jsm (james stuart morris) Flat 3, 58 St Georges Rd, Redditch, Worcs, B98 8ED. (A.R.R.)
http://www.paidup.blogspot.co.uk/2013/08/my-notice-unlawful-activity-by-heart.html (docs online)
from a natural born sovereign soul
My Ref: my notice of unlawful activity by heart internet… – Dated 2013 08 02 – Page 1of2
Halifax sort code: 111134 – acc no: 00222141 – webfusion ref XC0009111 smstudios.net & .co.uk
MY NOTICE UNLAWFUL ACTIVITY BY HEART INTERNET AND WEBFUSION AND 123-REG AND OTHERS MENTIONED AGAINST ME A SOVEREIGN SOUL WHERE FUNDS WERE ALLOCATED STOLEN AND TRANSFERRED WITHOUT MY FULL CONSCIOUS KNOWING WILLING WRITTEN CONSENT AND WITH PROOF OF CLAIM TO UPHOLD MY CLAIM.
This notice is to all concerned and if you want a peaceful outcome you know where to find me…
And by divine decree if you are involved in this incident then you are duty bound to tell your superior, and if you don't you carry the can and karma…
Please do not assume anything unless you speak to me first, otherwise you will be liable to lawful decree…
Use your intuition and inner guidance and the truth will reveal itself as I alwayd try to do now…
My common law court of conveyance now stands ready before you to do gods work or goods work…
Thank you…
On 28th may I received an email from heart internet telling me they are upgrading my domain forwarding ONLY package to a domain PRO HOSTING PACKAGE on 4th june with a small price increase from £45.939999 per year to £137.45 per year. Copies of ALL documents available online on my blogspot page for review
Now as my service provider is webfusion, and NOT heart internet, but quite clearly these are all affiliated and assosiated and include 123-reg as taken from their very own emails, I now want it to be known that I found this strange and said so in an email to heart internet dated 31st may basically saying I DO NOT CONSENT.
After receiving 2more emails trying to intise me and manipulate me into using their online domain accounts system, I responded using their online feedback form system making the above point very clear AGAIN and also declaring a remedy would be sought if they persisted in forcing a contract upon myself without my consent. On 13th june I received aknowledgement as proof of claim that they received my second response. This might be because on the 12thjune I sent a copy of my notice in writing recorded deliver by royal mail, who can and will be called to the stand in a court of law to testify to these facts.
Now after this I got some junk mail (and I never ever gave them permission to mail me either) as well as a few stating no credit card details and about to expire notices too. Firstly I have NEVER given them my credit card details and secondly I havent got any domains expiring atleast until smstudios.net in 2013. This will be available online aswell in due course. So now we have mis representation of the facts, and they have lied about the details too, and ignored initial written responses and not responded to me personally at all in any way shape or form at all.. tut tut tut.
THEN – to my utter shock and horror they go and take £113.99 out my bank account on 19th july 2013 of which the amount doesn't even tally up to the original blatant rip-off price BUT to top it all for the first time EVER!!!!! I am now overdrawn on my account. SO!!! Put simply, after 45years of good sound honest money sense and never going into the red, heart come along, and quite literally help themselves to my credit card details with VISA and HALIFAX BANK (so some seriously compramised security issues there for both of them) take money out my account without my consent AND with proof of claim to back that lawful declaration of mine, all the while ignoring correspondance, changing the amounts, no reciepts, no records of agreement, no copies of original contract or changes to terms and conditions (of which I NEVER knowingly willingly verbally nor in writing agreed to)
So now we have halifax allowing me to be overdrawn and put into a deficit without my consent nor a proof of contract allowing this. Do you all know this is unlawful. And by common law decree I am now telling you this is unlawful. Should you wish to overturn this perhaps we all need to attend a common court law of public record with a justice of the peace to chair the events with a jury present. But then I will summons ALL THE BOARD OF DIRECTORS, and I do mean ALL!!!!!
Sealed by jsm (james stuart morris) Flat 3, 58 St Georges Rd, Redditch, Worcs, B98 8ED. (A.R.R.)
http://www.paidup.blogspot.co.uk/2013/08/my-notice-unlawful-activity-by-heart.html (docs online)
from a natural born sovereign soul
My Ref: my notice of unlawful activity by heart internet… – Dated 2013 08 02 – Page 2of2
Halifax sort code: 111134 – acc no: 00222141 – webfusion ref XC0009111 smstudios.net & .co.uk
And of course visa are now implicated in this as they have allowed me to be overdrawn by a third party who NEVER had my consent for this amount or any amount, unless they adhere to the original statement given to me by excalibre with the original terms and conditions affixed – but again, for the public record, and by divine grace, and for ever recorded in the public domain – I never did consent to this transaction. And I DO KNOW the laws of contract and commerce will survive and suffice looong after I leave this beautiful beloved planet. Perhaps something we all need to bear in mind for our karmic future.
Im sorry but you have all acted unfairly and not protected my interests, and it seems we have issues with security regarding peoples personal property. If I have to I will enforce my fee schedule on this not wanted contracted, but for now will expect ALL concerned to respond to me in WRITING ONLY and accordingly to put this illegal and unlawful matter to rest. And I also want ALL my funds returned to me with a letter of apology from all those concerned parties, with assurances and measures put into place to prevent this unlawful activity from ever happening again. If that fails, I will have no option but to have the relevant regulatory authorities and governing bodies to enforce their codes of conduct more thoroughly, or finally lay the matter to rest, and allow gods law or the universal laws of the creators wonderful creation to come into play. and allthough you might not neccesarily appreciate the intent that I imply on this final remark, I most certainly do, and I use it with the full force of knowing that my intentions are good and honourable, and just, and on that note, I now had it over to all of you to prevent this unjust act from escalating further or ever happening again. Me, as always I now defer to my beautiful beloved creator, who, as always guides me through this wonderful journey we all call life.
Ps don't worry about the spelling or grammer or syntax cause I most certainly don't. please just pay attention to the intent thank you.
In love&light
Jsm
All that I create I seal and by Divine Grace all contained herein.
Common Sovereign Universal Laws apply.
love, light, learn, live.
ps I luv u all
jsm
= = = = = = = = =
= = = = =
IN LOVE&LIGHT
JSM