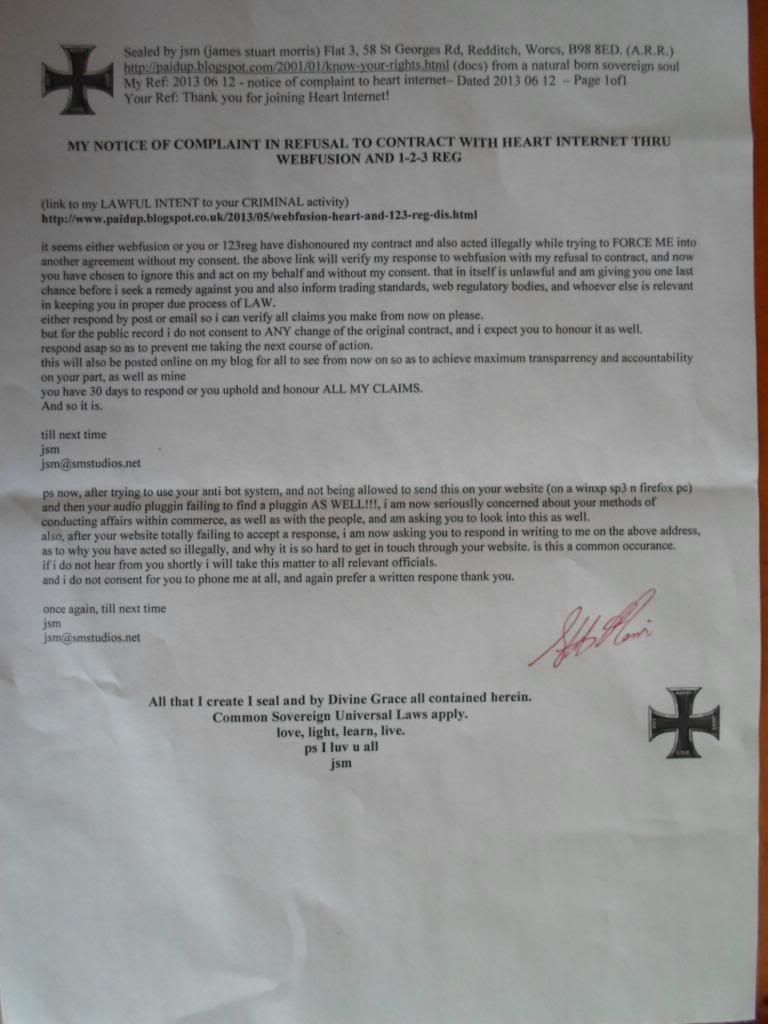 Sealed by jsm (james stuart morris) Flat 3, 58 St Georges Rd, Redditch, Worcs, B98 8ED. (A.R.R.)
http://paidup.blogspot.com/2001/01/know-your-rights.html (docs) from a natural born sovereign soul
My Ref: 2013 06 12 - notice of complaint to heart internet– Dated 2013 06 12 – Page 1of1
Your Ref: Thank you for joining Heart Internet!
MY NOTICE OF COMPLAINT IN REFUSAL TO CONTRACT WITH HEART INTERNET THRU WEBFUSION AND 1-2-3 REG
(link to my LAWFUL INTENT to your CRIMINAL activity)
http://www.paidup.blogspot.co.uk/2013/05/webfusion-heart-and-123-reg-dis.html
it seems either webfusion or you or 123reg have dishonoured my contract and also acted illegally while trying to FORCE ME into another agreement without my consent. the above link will verify my response to webfusion with my refusal to contract, and now you have chosen to ignore this and act on my behalf and without my consent. that in itself is unlawful and am giving you one last chance before i seek a remedy against you and also inform trading standards, web regulatory bodies, and whoever else is relevant in keeping you in proper due process of LAW.
either respond by post or email so i can verify all claims you make from now on please.
but for the public record i do not consent to ANY change of the original contract, and i expect you to honour it as well.
respond asap so as to prevent me taking the next course of action.
this will also be posted online on my blog for all to see from now on so as to achieve maximum transparrency and accountability on your part, as well as mine
you have 30 days to respond or you uphold and honour ALL MY CLAIMS.
And so it is.
till next time
jsm
jsm@smstudios.net
ps now, after trying to use your anti bot system, and not being allowed to send this on your website (on a winxp sp3 n firefox pc) and then your audio pluggin failing to find a pluggin AS WELL!!!, i am now seriouslly concerned about your methods of conducting affairs within commerce, as well as with the people, and am asking you to look into this as well.
also, after your website totally failing to accept a response, i am now asking you to respond in writing to me on the above address, as to why you have acted so illegally, and why it is so hard to get in touch through your website. is this a common occurance.
if i do not hear from you shortly i will take this matter to all relevant officials.
and i do not consent for you to phone me at all, and again prefer a written respone thank you.
once again, till next time
jsm
jsm@smstudios.net
All that I create I seal and by Divine Grace all contained herein.
Common Sovereign Universal Laws apply.
love, light, learn, live.
ps I luv u all
jsm